The website of Dadi Logistics Co., Ltd. in Nantong was finally completed in July, 2010
Our company survival value lies in creating wealth for society
--and opportunities for employees.
Our business idea is adherence to credit standing
--considerate service and top priority to safety as well.
Dadi is aware of solidarity, civilization
--harmony and union.
Integrity is the root of a company's survival and development, and the fundamental purpose of logistics service. Commitment is society's requirement toward the entrepreneurs. Credit standing is pulse of a company's development. Our survival lies in the consigned goods' secure reaching destination, which is also customers' basic requirement. Convenience is customers' aspiration and our own requirement.
Company Introduction
more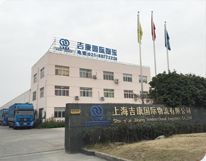 Dadi logistics company was established in August, 1999, with 12 million registered capital, 120 million fixed assets and 300 million turnover. Our headquarter is located in Shanghai. We are third qualified enterprise in road transportation and logistics. In 2002, our company was put into the list of Jiangsu's typical modern logistics companies by professionals of Jiangsu Development and Planning Committee and Jiangsu Modern Logistics Development Planning Committee. By the end of 2005, Dadi was approved as one of the 37 pilot logistics businesses by National Development and Reform Commission and State Administration of Taxation...